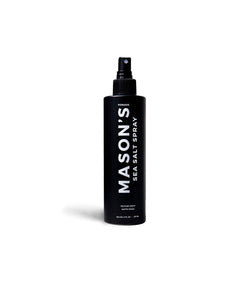 Mason's Pomade
Sea Salt Spray
Their newly developed Sea Salt Spray is a product that can be utilized for many applications. Infused with numerous sea salts this product delivers volume and texture for that "off the beach" look. In addition to multiple salts, their Sea Salt Spray includes aloe vera juice and argan oil to deliver rich nutrients and hydration to the hair without making it greasy or weighing it down.
Great to be used as a primer or used on its own for a lightweight finish. This is another product that encourages creativity as it can be mixed and matched with many of our other products. The fragrance is a subtle vanilla-tobacco scent that doesn't linger, yet still evokes that fresh and clean confidence one desires after application 
Instructions: Evenly spray product on slightly damp or dry hair. For those with fine hair, start with a few sprays and build up to discover the texture and hold you wish to achieve. Blow dry product into hair for added definition, volume, and texture or air dry for a more natural look. 
All Sales are Final